I sing.
I sing whenever the mood strikes me, at the top of my lungs, making the ears of those around me bleed. I know I suck, but I still want to be
heard,
damn it.
I have been known to pick up any object around me and sing into it like I am on stage at the Apollo. It doesn't matter what it is, although I have an affinity for singing into beer bottles. A quick glance at the pictures of me posted by friends on Facebook confirms my madness.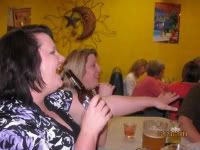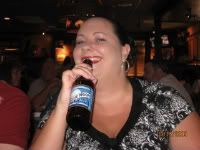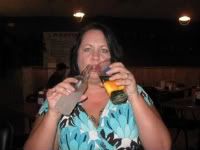 Criminy, I don't know if those pictures make me proud or embarrassed.
Anyhoo, I am laying the groundwork so I can tell you that my all time favorite sing-into-my-beer-bottle song is "Two Out of Three Ain't Bad", featuring the vocal stylings of Mr. Marvin Aday, aka Meat Loaf.
Songs just don't get better than this, people. It is so achingly sad that you can almost hear Meat's voice start to break from the sheer emotional power of it all. I just cannot resist its melancholy cheesetasticness.
A year or two ago, after listening to me belt out the song for probably the thousandth time, my dear friend Kelly informed me that she'd never really paid attention to the lyrics. After the shock wore off and I was brought back to consciousness with smelling salts, I proceeded to perform the first of many heartfelt renditions of "Two Out of Three Ain't Bad".
This dramatization came to be known as "The Spoken Loaf".
I start out quietly, allowing the story of the two lovers unfold. I speak into whatever is closest to me, clutching my hand to heart. I throw in the occasional cuss word or three for emphasis, such as "there ain't no way I'm ever gonna love you, mother fucker". I really come into my own right after the drum break following the classic line, "But there ain't no Coupe de Ville hiding at the bottom of a Cracker Jack box." I go from speaking to singing, letting all the hurt and despair flow from my body with broken notes and wild gesticulations. I end the spectacle on a gentle note, with my voice cracking and the back of my hand on my forehead, whispering, "Baby we can talk all night, but that ain't getting us nowhere."
I'm too distraught to go on. Enjoy the Loaf, y'all.
Baby we can talk all night
But that ain't gettin us nowhere
I told you everything I possibly can
There's nothing left inside of here
And maybe you can cry all night
But that'll never change the way I feel
The snow is really piling up outside
I wish you wouldn't make me leave here
I poured it on and I poured it out
I tried to show you just how much I care
I'm tired of words and I'm too hoarse to shout
But you've been cold to me so long
I'm crying icicles instead of tears
And all I can do
Is keep on telling you
I want you (I want you)
I need you (I need you)
But there ain't no way I'm ever gonna love you
Now don't be sad (Don't be sad)
'Cause two out of three ain't bad
Now don't be sad (Cause)
'Cause two out of three ain't bad
You'll never find no gold on a sandy beach
You'll never drill for oil on a city street
I know you're looking for a ruby in a mountain of rocks
But there ain't no Coup de Ville
Hiding at the bottom of a Cracker Jack box
I can't lie
I can't tell you that I'm something I'm not
No matter how I try
I'll never be able
To give you something
Something that I just haven't got
There's only one girl that I will ever love
And that was so many years ago
And though I know I'll never get her out of my heart
She never loved me back
Ooh I know
I remember how she left me on a stormy night
She kissed me and got out of our bed
And though I pleaded and I begged her not to walk out that door
She packed her bags and turned right away
And she kept on telling me
She kept on telling me
She kept on telling me
I want you (I want you)
I need you (I need you)
But there ain't no way I'm ever gonna love you
Now don't be sad (Don't be sad)
'Cause two out of three ain't bad
I want you (I want you)
I need you (I need you)
But there ain't no way I'm ever gonna love you
Now don't be sad (Don't be sad)
'Cause two out of three ain't bad
Now don't be sad (Don't)
'Cause two out of three ain't bad
Baby we can talk all night
But that ain't getting us nowhere